The Hopper Hills Hunt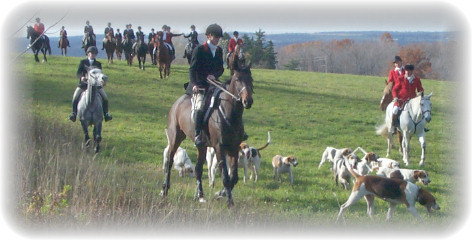 - CALENDAR - FIXTURE CARD - HOUNDS - HUNTER PACE - SOCIAL EVENTS - KENNELS - KNIGHT'S FARM - SHETLER FARM - LINKS - FRIENDS OF THE HUNT - WHAT'S NEW -
The Hopper Hills Hunt is located in upstate New York, with Kennels in Victor, NY. The private pack of Crossbred Foxhounds hunts fox and coyote at fixtures in Victor and Honeoye. The hunt country provided by gracious landowners consists of rolling hills with scenic views and an abundance of wildlife. The Hopper Hills Hunt is recognized by the Masters of Foxhounds Association and enthusiastically supports the traditions of foxhunting. The pack goes out twice a week from August through December.
Effective at the end of the 2003 hunting season, the Hopper Hills Hunt has disbanded after 33 years, and most of the hounds have been accepted into the Genesee Valley Hunt's pack, where they will continue to provide good sport. It is hoped that much of the Hopper Hills Hunt country will continue to be hunted by the Genesee Valley Hunt.
---
All content (c)2002 the Hopper Hills Hunt; all rights reserved.
For more information, contact the Master of Foxhounds.
For updates, contact the Webmaster.