Some pictures from the 2003 party:
Many thanks to Betsy Blades-Zeller for the use of her disposable camera.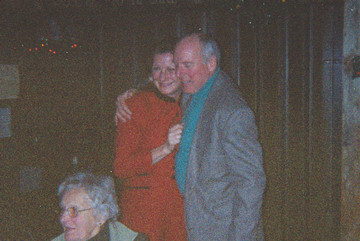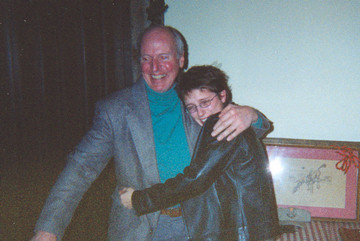 Hunt Colors being awarded to Diane Yacoby (L) and Allison Hartman (R) by Bob Andre', M.F.H.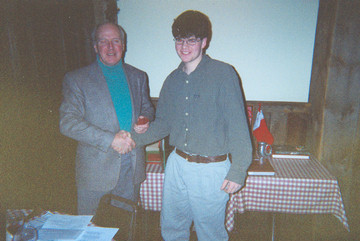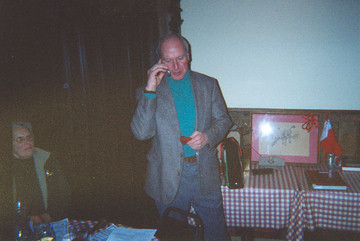 Colors being awarded to Dan Gladstone (L), and Jerry Mielke by phone (R). Jerry also received the Happy Hunter Award in absentia.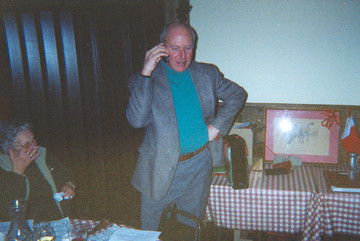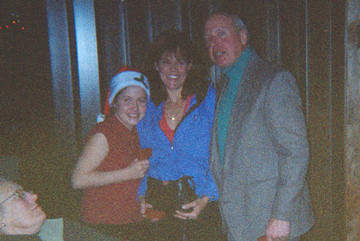 Colors being awarded to Courtney Morgan by phone (L), and to Amanda and Maria Moreland (R).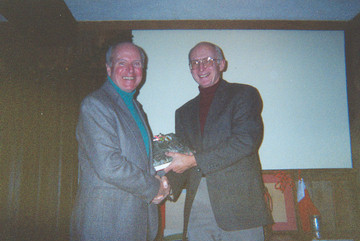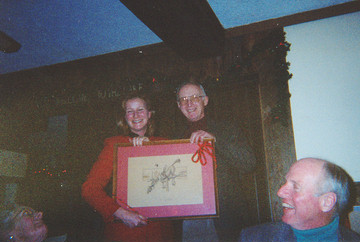 Hunt Webmaster and Photographer Bill Gamble receiving a personalized copy of Jim Meads' latest book and "American Foxhunting Stories" (L). Bill Gamble presenting the Hardy Hunter Award to Diane Yacoby (R), for her enthusiasm and stamina in attending almost every hunt from the beginning of cubbing to the end of the season, for keeping a hunting journal of the entire season, for writing an article for the Chronicle of the Horse, and for conceiving of the slide show with musical accompaniment shown at the party.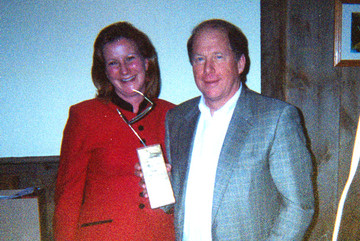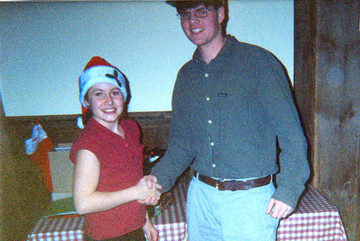 Diane Yacoby presenting the Broken Stirrup Award to Tom Judson for re-familiarizing himself with terra firma not once but twice in one hunt (L). Amanda Moreland congratulating Dan Gladstone on receiving the Junior Hunter of the Year Award designation (R).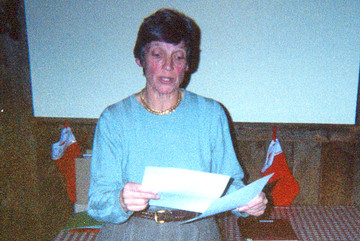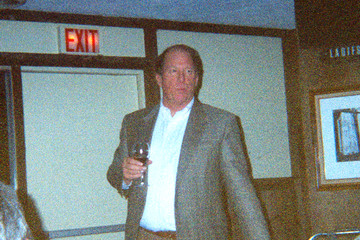 Ebets Judson leading the members in Hopper Hills Carols (L), and Tom Judson offering a toast to the Masters and Staff of the Hunt for 33 years of good sport, now sadly come to an end (R).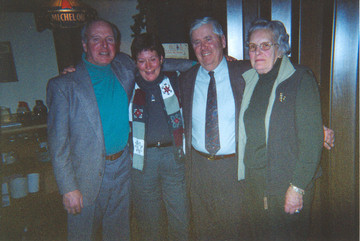 Dr. Bob Andre', M.F.H. and Bonnie Andre' (L), and Dick Guilfoil, M.F.H. and Dodie Guilfoil (R)